Electronic world - music available anywhere. Pay the artists!
At the start of the century music escaped from physical soundcarriers into electronic formats and was instantly available worldwide. P2P began that phenomenon on a grand scale. See the Gallup poll below, showing users' attitudes to piracy back in 2002.
2016 was the first year of a slight worldwide rise in recorded music sales after many years of consecutive decline.
Australia announced 2016 revenue growth, powered by streaming. (Details from ARIA below).
Finland also announced growth in 2016. (Details from IFPI below).
The point is that
licensing
to legitimate music services keeps ownership of recordings as tightly monitored as possible. It is only licensing that ensures musicians get paid (songwriters as well as performing artists).
The key point in 2002 Gallup research holds:
The record industry adaptations finally in the works should help the entertainment business as a whole as file-sharing spreads to other media such as movies.
In 2016 the benefits of licensing music to retailers is bearing fruit. Licensing to music services since the 2003 deal with iTunes made music legally available. Clearly the majority of music lovers don't mind too much if they have to pay for music services. Their friends are artists and they know their friends need to be paid (even if they continue to despise the record companies). This is a great success for the traditional model of licensing music to distributors, and being tough in monitoring sales to ensure correct royalty payments.
(Yes, we know there will always be arguments about those royalty payments). The model in aggregate is working. Music lovers will pay for music services. Music lovers will tolerate advertising if they do not wish to pay.
...end...
Data sets for the above are below:
Finland recorded-music revenues up slightly in 2016
Finland - the third largest of the Nordic countries in terms of population, after Sweden and Denmark - is finally catching them up according to Universal Finland marketing director Kimmo Valtanen, who was talking after the country's recorded music industry grew for the second straight year. In 2016 recorded music income in Finland was up 1.6% year-on-year to €36.7m thanks, rather inevitably, to the growth of streaming, which grew 25% year-on-year and now represents 72% of the total market. Both downloads and physical music sales dropped a hefty 31%, according to figures released by the IFPI Finland. "The Nordic countries have been at the forefront of the global development of the music industry in terms of the use of digital services since the beginning and Finland has finally reached the same level as the rest of the Nordic region," Valtanen said. And yet Valtanen believes this is just the beginning for Finland, predicting that the market will double over the next 10 years. IFPI Finland executive director Antti Kotilainen said that a 1.6% increase was slightly lower than expected - for the first six months of 2016 the Finish recorded music market was up 9.4% - but said that this was a good performance given the plunge in physical sales. Other interesting statistics: income from subscription streaming grew 21.8% year-on-year to €23.4m, dwarfing income from ad-supported services of €3m.
Source: IFPI Finland –
http://tinyurl.com/makyfkn
Australia the latest market to show recorded-music growth
The omens are looking good for global growth in recorded-music revenues in 2016, with Australia the latest market to report positive figures for last year. Industry body ARIA released its 2016 wholesale stats yesterday, revealing that revenues were up 5.5% last year to AU$352.2m (around $269m) following a 5% increase in 2015. Once again, streaming is becoming the engine for this growth: it now accounts for 38.5% of the recorded-music market in Australia, growing by 90.5% year-on-year. Physical sales accounted for 30.6% of the market in 2016, meanwhile, although CD sales dropped by 21.1%. Download sales were also down, by 20.8%. The prepared comments from ARIA chairman (and Sony Music exec) Denis Handlin were a familiar industry blend of pride and warnings about safe harbour. "This is a reflection of the industry's innovative marketing and high level of artist development, as well as the further consumer take up of quality digital retail services," said Handlin of the growth. "Although our industry is now on a pathway to recovery, it is absolutely critical that Australia retains a strong copyright framework to ensure that artists and labels can continue to invest, innovate and protect their work and earn their fair share in the growing digital market."
Source: ARIA –
http://tinyurl.com/lrxcaub
It's no stretch to say the Internet is making the music industry sweat. Last month, the two largest record companies, Universal Music and Sony Music Entertainment, announced plans to let consumers download songs and record them onto blank CDs for a modest fee. The move signals an about-face from the hostile stance the companies previously took toward online music distribution, and indicates that record execs are finally realizing they will have to adapt to a world online or watch sales continue to drop, especially among young people.
Indeed, some have predicted that unauthorized online music-sharing will cause, if not the demise of the giant record companies, at least their radical contraction. Michael Wolff of New York Magazine wrote in a June 5 column that the industry would become "a low-margin, consolidated, quaintly anachronistic business, catering to an aging clientele, without much impact on an otherwise thriving culture awash in music that only incidentally will come from the music industry."
It's undoubtedly troubling for the industry, especially given that music-sharing is so common among teens, a critical age group for record sales. In response to a 2001 Gallup Youth Survey*, 81% of American teens said they were familiar with file-sharing programs like Napster -- and 93% of those who were familiar said they had friends who used such programs to download free music. According to the International Federation of Phonographic Industries (AFPI), global music sales were down 5% last year because of the combined effect of piracy and the economic downturn.
Overreaction?
But some survey results suggest the effect of piracy may be overhyped. According to a May Gallup poll, about four in five Americans (79%) say the fact that music can be shared and copied over the Internet has no effect on their likelihood to purchase CDs -- and another 8% say they are actually more likely to buy CDs because of file-sharing. And only 18% of American adults claimed in May** to have ever downloaded music from an Internet site that was not authorized by a record company. While that is not an insignificant percentage, it is perhaps lower than some observers may have thought.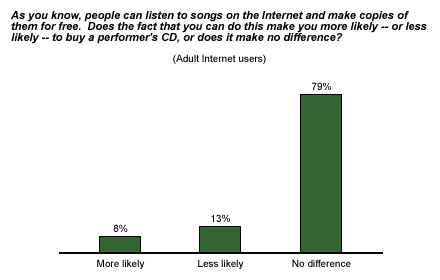 In the same vein, teens were asked last year whether they thought music-sharing made people more or less likely to purchase CDs or cassettes ("no difference" was not given as a response option for that question). A majority, 55%, said people would be "less likely" to purchase music but a substantial minority (44%) said "more likely."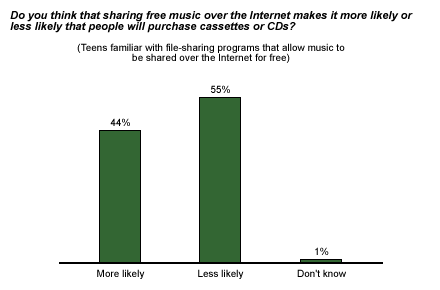 Finding the Middle Ground
Clearly, the music industry is struggling to come to terms with the increased consumer power ushered in by the new technology. The news is not all bad for them -- Gallup polls show the public is divided about the legality of music-sharing, with 43% of adults saying they think it should be legal to trade downloaded songs over the Internet, while 46% say it should be illegal.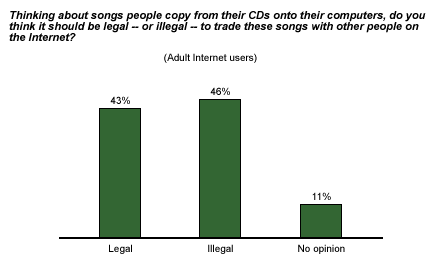 Nor is the importance of creative licensing lost among teens: 76% say they think artists, writers and musicians have a right to be paid for their work shared online.
What form is the compromise between the music industry and music consumers likely to take? Poll results indicate that Universal and Sony have taken a step in the right direction by opening the door to authorized copying of digital music. Having been able to make "mix tapes" of their favorites songs for decades, 63% of American adults say they oppose a law requiring that CD players be manufactured so that consumers are unable to make copies.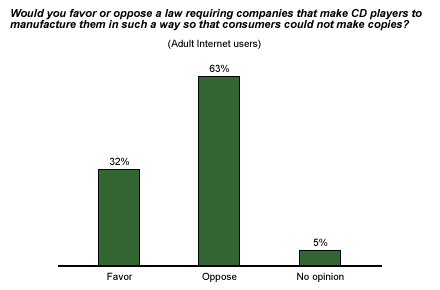 On the other hand, 48% said they would favor a compromise solution: making it possible to create just a few copies of a CD, while 42% are opposed***. However, in the event that CDs were manufactured so that buyers could only make a single copy of them, 64% of Americans said they would still buy the CD, while 24% say they would refuse to buy it even if it was one they would normally buy.
Another piece of good news as record-industry leaders look to the future is that younger adults do not appear more averse to reasonable restrictions than older Americans -- 75% of those aged 18 to 29 say they would buy a CD they could only make one copy of.
Key Points
The music industry has unquestionably been late adapting to the rise in consumer power brought about by the Internet -- but survey data, especially among young people, indicates that it's probably not too late. The record industry adaptations finally in the works should help the entertainment business as a whole as file-sharing spreads to other media such as movies.